How Can Mobile App Development Firms Take On The Challenges Of Peaked Growth?
Both Buzinga and Appster are top mobile app development firms headquartered in Australia. They were at the top of their game when they collapsed. What were the challenges that they face?
Their growth can be traced to the rapid adoption of smartphones that started in 2009. This presented great opportunities and demand from companies to engage users through mobile apps.
When Buzinga collapsed in 2017, many competitors swoop in like vultures ready to pick up clients and projects in distressed.
A couple of days back, when the news of Appster's collapse hit the wires. The scene is a repeat of what Buzinga went through. Companies are taking the leaf out of their old playbook and executing the same strategies.
Much has been reported on the causes for Appster's collapse. Among the claims include:
1.Missing sales target. Missing sales target by up to 50% for 4 straight months put a huge strain on cash flow
2.Tax issues. The need to back pay 4 years of tax arising from the landmark case between Tech Mahindra and Australian Tax Office (ATO) is probably 'the straw that broke the camel's back'.
With companies swooping in to acquire the customer base from Appster, are they making the mistake of 'miss the forest for the trees'? The collapse of 2 well-known mobile app development firms in less than 18 months points to a growing and worrying trend.
Changing landscape with more complex mobile apps requirements
1.Mobile growth has peaked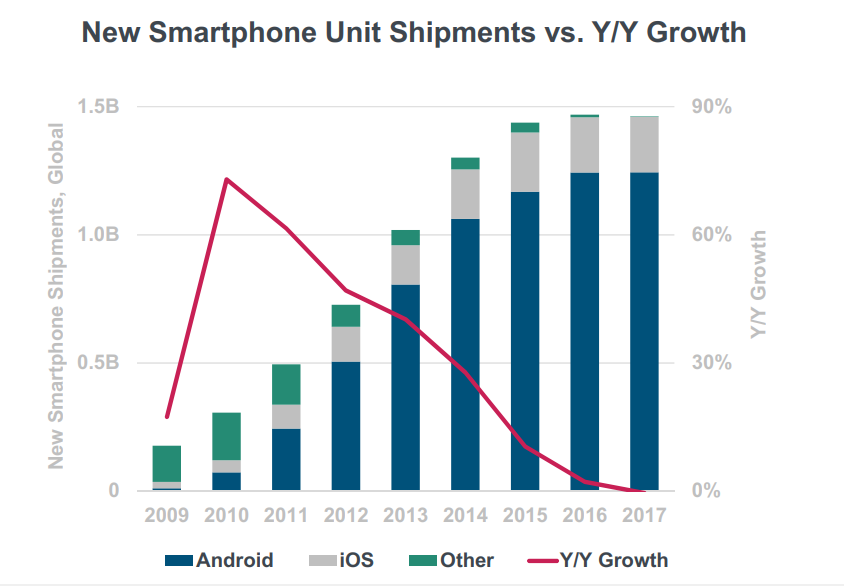 Source: Kleiner Perkins 2018 Internet Trend Report
A rising tide can lift all boats. And riding the trend of growing smartphones adoption and increasing mobile initiatives is one great way to grow. However, smartphones adoption has peaked with no growth last year. It suggests that the low hanging fruits of building mobile apps are over.
2.Scaling service based companies on a fee-for-service model is hard
As mobile apps development firms scale, there is a need to rely on an offshore development team to complement the local teams.
Lower wages, the promise of 'unlimited talents' and the opportunity to achieve a higher margin, it presented an enticing scenario to any businesses.
As sales slowed, the expenditure of maintaining the team and challenges of delivering on-going projects remains as teams juggle over multiple projects.
Accounts receivable will become a top priority and firms with fixed price project model will face the pressure of scope creep leading to cost overrun.
This has a spiraling effect that entraps many companies.
3.More complex project requirements
Today's companies demand mobile apps with more integration with services. These include but not limited to AI services (image recognition, voice-to-text), personalization and search. With a maturing mobile app market, the market is saturated with a huge supply of service firms. First mover advantage no longer benefits in these scenarios.
With greater supply, it will limit the margins for the firms. Companies need a better strategy when it comes to expansion. Not planning for this shift may lead to costly mistakes. Conclusions
Strategy, operations, and trends have a big impact on companies. Given how fast this collapse comes about, it is imperative that companies review their strategy, operations, and the underlying trends that supported their growth.
At ZNFrontier, we have the opportunities to discuss with both VC and advise fast-growing companies on the challenges around their plans to globalized. Many are trapped in the day-to-day operations of the company and missed the bigger picture.